The following article was written by Blair Potter of Meeting Professionals International, and featured as the cover story of the September 2023 edition of The Meeting Professional. 
Andy Sharpe and his team at SongDivision help event attendees bond through the creation of songs both onsite and online.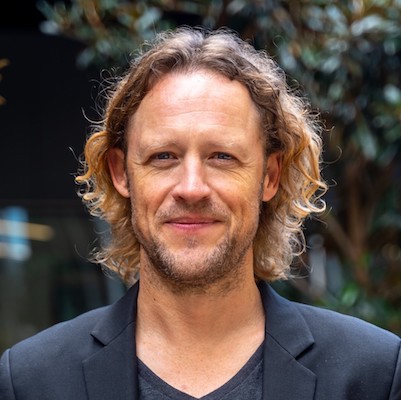 Andy Sharpe, founder of SongDivision and a resident of Maui, Hawaii, says that although West Maui was closed to visitors following the wildfires, he wants to stress that the rest of Maui and the Hawaiian Islands are open for business. "The local event industry and community at large needs your support," he says. "Be respectful, but please continue to bring groups to beautiful Maui."
Familiar faces
Chances are you've seen Sharpe and his team at multiple meeting industry events over the years, including IMEX and MPI's World Education Congress (WEC). SongDivision and WEC attendees joined forces to compose and perform "Next Stop Louisville" (promoting WEC 2024 in Louisville) during WEC 2023 in the Mexican Caribbean in June. The song was performed onstage at the closing general session.
In another WEC23 activity, SongDivision performers engaged WEC attendees on buses traveling from Cancun airport to the Barceló Maya Riviera via a Song Slam. Each busload was initially asked to talk about the first concert they attended, which eventually led to creating and performing a song about what MPI means to them. Those attendees then "had that connection with each other" when they crossed paths later while onsite, Sharpe says.
"Music is a powerful tool to strengthen an organization's culture," he says. "From team-building events for 30 people to arena-filled general sessions for 20,000, it brings people together, it communicates the big ideas, it creates memories."
For a general session—there were five at WEC23—SongDivision performers can come out 10 minutes before the session begins to warm the audience up.
"These top-shelf session musicians go into the audience and play songs on request," Sharpe says. "And we also write IntroHits for speakers. We send out a little questionnaire to all the presenters and they get a 20-second custom song performed live as they walk onstage. At a lot of conferences, they're not professional keynote speakers, they're executives. They're a bit nervous. They're not flashy. We do these IntroHits, and it just connects them to the audience. It brings some love into the room so that they can be a bit more relaxed. It helps them get their message across, and it helps the audience receive it."
Knowing that many event attendees might balk at the idea of writing and performing a song in public, Sharpe and his team start out with a non-intrusive approach.
"We say at the start we're not going to make you sing on your own. It's about writing lyrics together. You go through a group songwriting process," he says. "And by the end of it, you know your team better, like, 'I didn't know so-and-so played guitar' or 'I didn't know you were into Beyonce and Metallica.' A typical scenario is with the songwriting team-building session in the afternoon, and at the big gala dinner that night each group gets up and plays their original song backed by the SongDivison musicians in a battle of the bands 'Song Slam.' At that point any earlier hesitations about performing on stage disappear because they're thinking, 'I helped write this, this is our song!' They're like delusional teenagers in a garage band, telling each other, 'This is a great song, we're going to be rock stars!'"
An art and a science
SongDivision clients reach well beyond the confines of the meeting and event industry, with their primary industries being tech, pharma, financial and professional services. When Sharpe breaks down his team's work into the science of music and the art of engagement, it's in a literal sense. The science: releasing oxytocin, the "cuddle chemical."
"We do a lot of post-merger-and-acquisition work, as well as sales kickoffs," he says. "Maybe people are anxious about meeting their boss and other team members for the first time. They can be a little tense, but you've invested all this money bringing them together and you want them to be engaged with each other. Creating songs together releases oxytocin so you are empathetic, creative. We come in and warm the room up so that people are in a receptive, collaborative mood and can put on a great meeting together."
SongDivision tackles the art of engagement by recruiting the best session musicians in the world, such as Angus Clark, the company's general manager of North America and lead guitarist for Trans-Siberian Orchestra and Cher, and Damien Horne, who has performed with Keith Urban and John Legend.
"Some people think team building is cheesy. I also think a lot of team building is cheesy," Sharpe says. "But our guys and girls are so good. They're some of the best musicians on the planet, so people go through this real musical experience. And music is universal. Everyone relates to it. So that's the art of engagement."
If you bring an A-lister to an event, that person is the star, Sharpe says, but his team, who play with the big stars, know how to make the participants themselves the stars.
"Our guys and girls know the difference between Pfizer and AstraZeneca or McKinsey and BCG. They know their audience," he says. "It's not a 'Hello Cleveland' situation. They understand why organizations meet and are focused on helping our clients hit their meeting goals."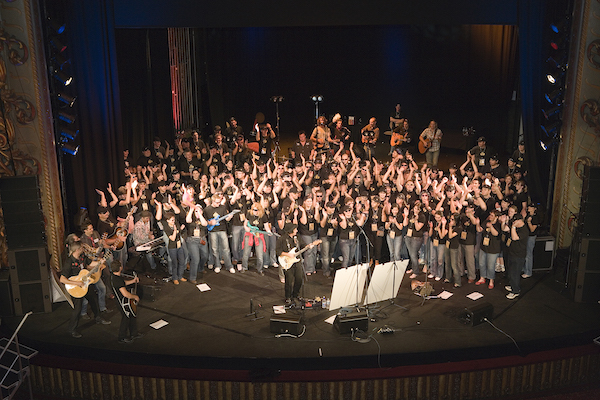 Music-based team building: A group of 200 performing the original song they've just written together.
A new business model
Before the onset of the COVID-19 pandemic, all of SongDivision's work was in person, but that business model clearly had to change during the pandemic.
"Half our work is now virtual. We work with remote teams throughout the quarters, and then they bring us in for the big in-persons," Sharpe says. "We were doing no virtual before the pandemic. My wife Marsha, who runs the business with me, had over the last few years before the pandemic said we should have a remote offering, and we had a couple of meetings about it. So, when March 2020 hit, everything went to zero and our teams in each market started doing open virtual happy hours for our clients just for engagement, just for the connection. We started doing those for free—the first was delivered by our UK & Europe GM Sam McNeill (a favorite of the MPI EMEC community), and within a month we were selling them, and we then delivered 2,000 virtual experiences over the first two years [of the pandemic], ranging from team-building programs for 15 people to Dreamforce for 100,000 people."
One of SongDivision's virtual offerings is the "Broadcast Band," an example of which was recently delivered through the German event production company Proske, where a "house band" of top session musicians (think The Roots from Jimmy Fallon's The Tonight Show) were broadcast from a Munich studio to 24,000 global attendees of a leading global nutrition, health and beauty multinational that had just been through a merger and acquisition, playing the C-suite speakers onto the virtual stage and keeping the vast audience engaged and "off their phones," Sharpe says, interacting with attendees in between the "dry but necessary content" with music game show elements and helping the company to write a unifying anthem.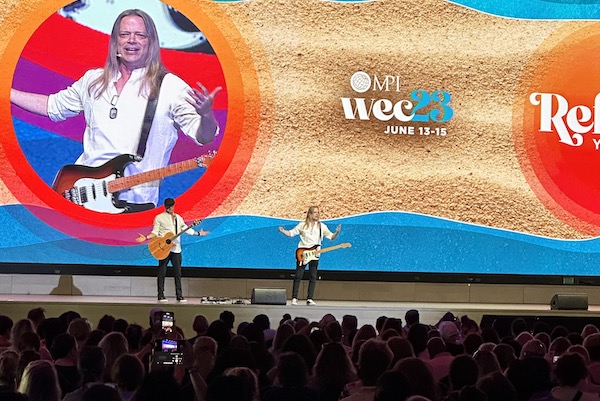 SongDivision USA's Angus Clark and John Lombardo energizing the general session audience in Mexico during MPI's 2023 World Education Congress.
A transformative experience
Australian-born Sharpe studied law before his band was signed to AC/DC's label in the U.K., where they performed for five years. When the band broke up, he was recruited by IBM, where he spent 10 years in their Global Financing division.
"And that's where I experienced corporate events: sales incentives, sales kickoffs as an attendee," he says. "Bad team-building events, good team-building events. But I was still writing songs for pop stars in Australia on the side."
Sharpe's foray into the events business, like so many of his colleagues, wasn't exactly planned.
"Yothu Yindi, Australia's most famous indigenous band, put the on the 'Garma Festival' each year in northern Australia and they ask famous songwriters like Neil Finn from Crowded House to come in and do songwriting workshops with indigenous school kids," he says.
Prominent dance producer Paul Mac, who had a couple of big hits with Peta Morris, was unable to run the workshops, according to Sharpe, who was writing a solo album for Morris. So, Sharpe joined Morris in running the workshops.
"We would get 20 indigenous teenagers at a time for two hours, and the brief was to write a song and then record it—and then play it at the festival that night," he says. "I was petrified. I'd never helped write a song on the spot, and the first day Australia's Today Show was there filming. So, I said, 'Does anyone know a couple of chords on the guitar?' One of the kids can play a bit and goes, 'Here's an E, and an A' and I go, 'OK, there are the chords. What style of music do you guys like?' They're like, 'We like reggae and gangster rap.' So, we wrote a reggae song with a gangster rap breakdown. And then there's Peta, who's an amazing singer with a No. 1 song in Australia. As soon as she sings it, it sounds like a record. So, we recorded the song and the kids performed it at the festival with the band that night."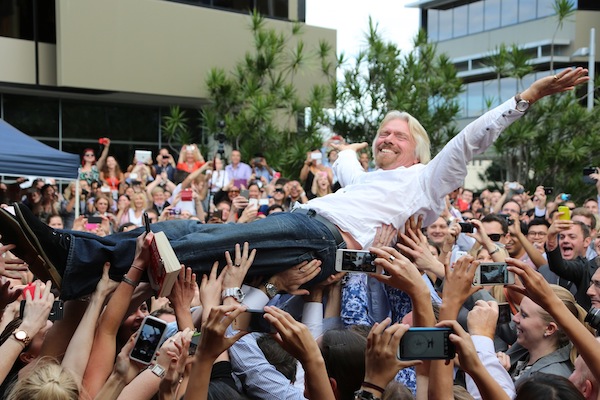 Sir Richard Branson enjoying his time with SongDivision Asia Pacific.
Soon, companies in Australia started asking Sharpe to lead their teams through song-based team building. Fast-forward to today, and SongDivision has teams across the Americas, Australia, Asia and the U.K. and Europe, delivering team building, interactive entertainment and music-based L&D programs to Fortune 500s, associations and government bodies in over 30 countries and 15 languages.
"We turn 20 next year—we're not even at drinking age in the U.S., the fun is just getting started," Sharpe says.
What's up next for these event innovators?
"We're about to launch 'Team Harmony,' a six-part L&D program focused on practical ways to build and nurture a high-performing team, and we're in the early stages of building a VR recording studio where teams from around the world will be able to connect and collaborate in a state-of-the-art virtual recording studio," Sharpe says. "We're very much looking forward to our 20s and beyond."